Amina Thai
8624 Colesville Rd, Silver Spring, MD 20910
Order now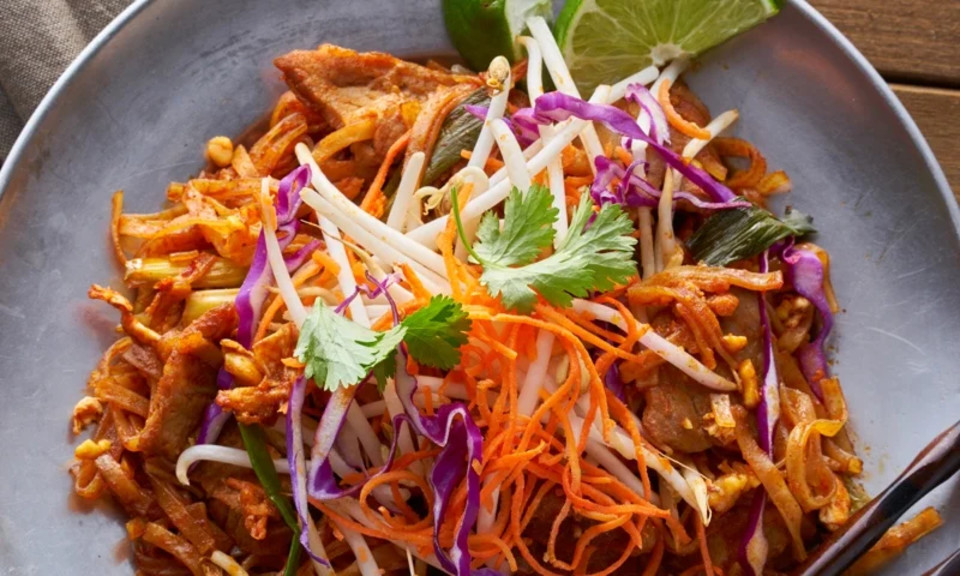 Keith
If I could give them 100 stars I would.

We ordered a large amount of food from them for a baby shower at work. The city hit a gas line outside of their restaurant the day we were getting our delivery. The cooks called, not to cancel, but to let me know he was driving two towns over to another location to prepare our food and deliver it themselves! I fully expected them to say "Sorry, we just can't fill this order." but they went above and beyond to deliver a 100% correct order on time that was phenomenal. Everyone at the shower loved it. They had a fantastic selection of vegetarian dishes as well.
Kyle
We have ordered from Amina Thai several times now and have always been delighted; most recently, we ordered chicken pad Thai (excellent), panang curry (excellent per wife), spring rolls (very good), and two Thai iced teas (excellent). Although the food is on the pricey side, the extra cash is worth it IMO. We are not spice aficionados, so we cannot comment on whether the food is adequately spicy for you fire-tongued, iron-stomached types, but Amina Thai is one of the best Thai restaurants in the area for our decidedly North American palates.
P
The delivery was 30 min earlier than indicated and we werent yet home. The delivery guy called us and even though I told him to leave the food by the door as it will take us 5-7 minutes to get home, he insisted to wait so the food would not get cold. And the food was one of the best Thai fast-foods I ever had. Drunken noodles beef was especially good.
Rachel
Some of the best thai in the DC area. I love that it's halal, so I don't have to worry about my food mixing with pork. Delivery is always super fast, usually much less time than posted. This is my go-to thai place and it will continue to be.
Elliott
Great Thai food! Medium spice was perfect for. I cant imagine how spicy hot or Thai-hot is. Quick delivery and great food! They did I a great job of making any dish vegetarian and the dishes we didnt want spicy werent spicy.
Mac
Can't believe this place! They have the nerve to show up like 30 minutes EARLY, while I'm in the shower, knocked twice, and by the time I grabbed the towel and got to the door they went so far as to use COMMON SENSE and left the food at the door for me! Unreal!

on TOP of all that the food was hot and delicious as it is every single time I order from here! What kind of place is this??

Amina Thai really makes every other takeout look pretty bad in comparison. This is like the sixth time I've ordered and every time they're early or on time but mostly early and the order is always correct and the food is always fantastic. Nothing else to say.
Gerardo
Best thai restaurant in silver spring as far as flavor and quality of food are concerned. Prices may sometimes be a little bit higher (not much, still a great value) than some of the other thai restaurants in Silver Spring, but it is well worth it. Also, delivery is astoundingly quick, still surprised by the time it took 15 minutes from the time my order was placed to when food showed up at the door, that's hard to beat.
nick
Amazing spring rolls and they were hot and delicious right out of the bag! Highly recommend this place. We order at least 5-6 times a month and its always great!
Melissa
Consistently on time or early delivery. Also they accommodated a change in my order when I called them. Thanks Amina Thai!
Nkoyo
Pretty solid delivery experience for my first order. Good food. Speedy arrival. Polite staff.
About us
Today

Delivery: 11:00 AM - 9:30 PM

Takeout: 11:00 AM - 2:45 PM

Delivery

Monday:

11:00 AM - 2:30 PM

Tuesday:

11:00 AM - 2:30 PM

Wednesday:

11:00 AM - 2:30 PM

Thursday:

11:00 AM - 2:30 PM

Friday:

11:00 AM - 9:30 PM

Saturday:

12:00 PM - 9:30 PM

Sunday:

12:00 PM - 8:30 PM

Takeout

Monday:

11:00 AM - 2:30 PM

Tuesday:

11:00 AM - 2:45 PM

Wednesday:

11:00 AM - 2:45 PM

Thursday:

11:00 AM - 2:45 PM

Friday:

11:00 AM - 9:30 PM

Saturday:

12:00 PM - 9:30 PM

Sunday:

12:00 PM - 8:30 PM